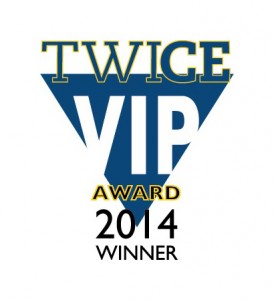 Garden Grove, CA., August 20, 2014 -  Elite Screens is pleased to announce that it's CineGrey 5D has won TWICE Magazine's 2014 VIP Award.
The TWICE VIP Awards give retailers and distributors the chance to honor the products that have made the biggest difference in their business. Voted on ONLY by retailers and distributors, the TWICE VIPs are based on product features, product design, and value to consumers.
"Congratulations to Elite Screens Inc. on its CineGrey 5D "ALR" screen winning the 2014 TWICE VIP Award in the Projection Screens category," states Ed Hecht, VP/Publisher, TWICE. "Each of these year's winners has played a part in making this innovative industry more interesting, vibrant, and profitable. We are proud to showcase these winning products."
This has been an incredible honor and we are very pleased that CE Retail professionals have given such high marks to our new product. Below are details on theCineGrey 5D. If you have any questions or comments, we look forward to your replies.
-Dave Rodgers
Marketing Manager, Elite Screens Inc.