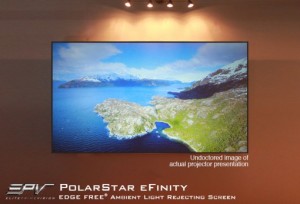 Garden Grove, Calif., August 1, 2014 — Elite Prime Vision, the dedicated Custom Install division of Elite Screens Inc., today announced the development of its PolarStar-eFinity "Edge-Free" projection screen with  ambient light-rejecting properties and 3D polarization.
"Edge-Free implies the absence of the traditional frame that borders the edge of a typical fixed projection screen. In addition to the essentially frameless projected image, the EPV concept takes this further by offering it as a disassembled product. This way, it's less costly to ship and does not come with the same logistical issues that accompany shipping a fully assembled projection screen." said Jeff Klida, VP of Sales for Elite Prime Vision. "The eFinity design incorporates this beautiful new look with its award-winning PolarStar ALR material and the results are just fantastic."
The eFinity design is EPV's answer to persistent customer demand for a projection screen that would have the aesthetic features of an edge free design with the added benefit of LED backlighting. It has an internal aluminum framework that is enclosed in a wrap-around material design to create the "edge-free" effect. It also comes with an anodized aluminum 10mm edge bezel for those who still prefer some sort of border on the image. The product is easy-to-assemble and has sliding wall brackets that ensure a perfectly centered installation every time.  As an added value, the frame includes a detachable LED backlighting kit with remote to activate its 16 color options and 4 modes.
In addition to this, the Ambient-Light-Rejecting characteristics of the PolarStar 5D material make the projected image superb in either a darkened or brightly illuminated residential or business setting.  The award-winning ALRmaterial is an angular-reflective PVC (tensioned) multi-layer screen material with a reflective brightness level of 1.3 gain and a 70º wide viewing angle. The Silver-Gray protective surface coating is a reflective compound that filters out indirect light while enhancing contrast levels. In addition to maintaining exceptional picture brightness and clarity in dark or illuminated rooms, the material is polarized for active or passive 3D presentations while maintaining 92% polarization levels.  Lastly, the material is compatible with high definition video modes such as 4K, 1080P, 720P, WXGA and XGA formats. For all these reasons, the PolarStar-eFinity finds a suitable role in either a residential or commercial application.